Just south of Jacksonville, located in historic St Augustine, Florida sits Castillo de San Marcos National Monument. A place where kiddos can explore an old fort, hear a cannon fire and even earn a National Park Junior Ranger badge. Yep, this is different than the Florida State Parks Junior Ranger badge. To my daughter, this made her a National Parks Junior Ranger which in her mind meant she had more authority for some reason. There is a fee to enter Castillo de San Marcos National Monument, but it's well worth the price of admission. You can also visit during one of the free National Park Days that occur throughout the year.
Explore the Fort in St. Augustine
A large wooden bridge leads you to the first small fortified area to explore and check out the views. As you cross another bridge you enter the main fort. Throughout the fort are different rooms to give your family a hint of what life was like when this fort was up and running. My girl's favorite room is where they would hold all the cannon balls long ago. Now an empty room with a small window, you can only enter by a small passage (adults you will have to duck) which makes it feel kid sized and more fun. Every time we go, this is the first place my girls run to.
On the weekends they have historic weapons demonstrations, where the volunteers, dressed in period specific costumes explain the weapons used and some of the experiences of the Spanish colonial solider of the 1740's. This is when they fire the cannon, so if you have kiddos with sensitive ears I would suggest to bring something to cover their ears, or miss this demonstration as it does get loud.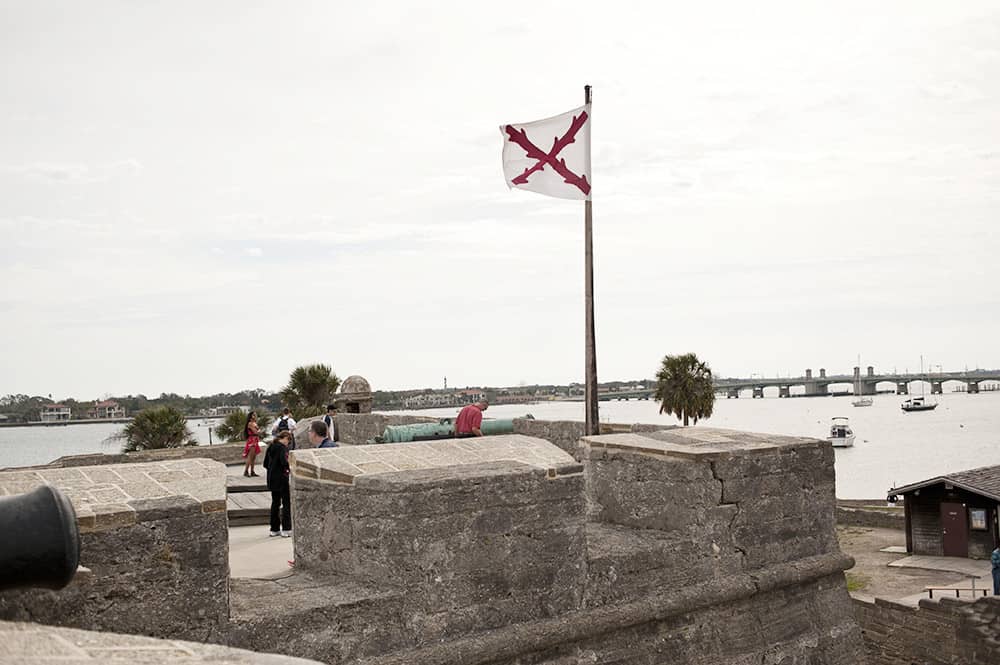 Come Ready to Learn some History
On a beautiful day, the top of the fort provides beautiful river views and views of historic downtown St. Augustine. With all the history, this is a wonderful spot for a quick trip and you can end your tour the way my girls do; by rolling down the large hill outside the fort! Many families bring picnic lunches and enjoy the large grassy area where your kids can run, roll and get some energy out before the drive home. Castillo de San Marcos in St. Augustine makes a great day trip from Jacksonville so be sure to check it out!
---
Melody is a graduate of Jacksonville University, married a Jax Beach resident, moved away for 12 years, then returned to the area in 2016. Together they have two girls. Melody works as owner/photographer of Melody Coarsey Photography, she loves yoga, family, traveling, dining with a view and the ocean.