A birth doula is a certified professional who is trained in physiological childbirth, as well as how to support birthing people before, during, and just after all types of birth. For more information on doulas and the benefits of their support go here. Now, let's focus on how to find a Doula in Jacksonville.
According to a survey published in 2013, only 6% of birthing parents used doula support during childbirth. In light of that statistic, let's assume a vast majority of expecting parents don't know what a doula is.
When do you hire a doula?
The best time to hire a doula is around the 12-15 week mark, once you are past the first trimester. But I would start looking when you get the positive pregnancy test. Most professional doulas have a flat-rate fee. So, booking earlier in your pregnancy ensures you have their support for a longer period of time. Keeping in mind that in the Jacksonville area, most experienced doulas can book 7-9 months in advance. 
Can I find a doula now even if I'm already 36 weeks?
ABSOLUTELY! As long as you are still pregnant, it's not too late! But it may be difficult to find the right one for you with availability for your due date. So, be sure to ask the right questions. 
What questions to ask:
Will you answer my questions without bias?
Are you equipped with a variety of strategies for supporting all types of labor and birth?
Do you have a back-up system in place in the event that you are unavailable? And what is it?
Are you trained in other ways that compliment your doula practice?
These are just a few suggestions to get you started. Make sure you examine what points are important to you and focus on that. Jacksonville is the largest city in the continental United States, which means that some doulas here only serve certain sections of the city. So, be sure that they will attend in your area! Go here for more ideas on questions to cover when looking for a doula that's right for you.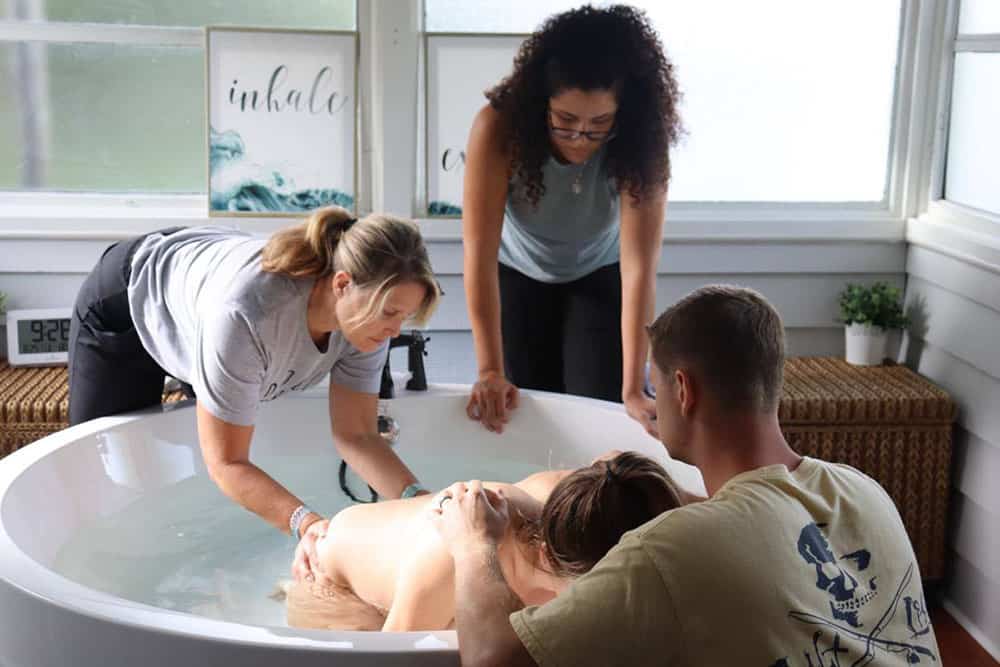 Finding a doula in Jacksonville
Choosing the perfect doula for you is a lot like picking out a wedding dress. Once you find "the one" you don't want to take it off, and you stop looking! Much like finding a wedding dress, you also need to know where to look for a doula & what to look for! With two birth doula agencies & over fifty private practice doulas in the area, it can be overwhelming to decide who is right for you. Here are a few points & things to look for, to help make this search a bit easier for you.
Where to look for a doula in Jacksonville:
The best places to search are going to be local mom groups such as our very own Jacksonville Beach Moms or the Jacksonville Natural Birth & Parenting Facebook community groups. Why?!? Because moms in Jacksonville are honest and will tell you like it is! They won't endorse a service they aren't happy with. Another great option is a site that is specifically for finding a doula. Such as Doula Match, the Jacksonville Maternity Directory or even the Military Birth Resource Network for those looking for military birth support.
Other options for searches include doula training organizations such as Hypnobabies® or ProDoula. And last but certainly not least is your care provider! Many work closely with birth doulas who have provided support for their patients previously, while others have not had much experience with doula support (remember that 6% statistic earlier). So, see what they have to say about local doulas, it may even give you more insight into how THEY feel about birth support! 
What to look for when hiring a doula in Jacksonville:
A professional. Your doula needs to have an actual business, be fully trained & conduct business in a respectable manor. Same expectations as a contractor, medical provider or even the lawn service you hire! You want them to know how to do their job and perform it well. 
Good reviews. Your doula needs to have reviews from previous clients. Period. It says a lot about a person if no one has anything nice to say about the service they provide. They should include something that tells you this person will support your desired birth experience as well. Not much to expand on here but it's a definite must have.
Solid backup. Your doula needs to have backup doula support available in their birth package. Whether it's an agency where backup is built in as a designated doula you know within the same agency or a solo doula who has another local doula back them up… they need to be able to ensure you have comparable support if an emergency prevents your doula from attending you herself.
Reputable & professional consistency is what you are looking for with a dash of who you mesh well with. It's a personal thing hiring a doula, this person will pretty much see you naked and will at one point in time probably be touching you. You need to feel comfortable and at peace with them being in your birthing space. 
---
Doulas of Jacksonville is a local doula agency providing birthing families with the judgement free tools and support they desire. We are committed to equipping Jacksonville families with evidence based education & unconditional support without bias.